In March Lisa will turn 7. What she really, really, really wants for her birthday? A bunk bed! She's been talking about it for months. I found a nice (and affordable) one at Ikea. Actually it's a loft bed, but it thank goodness it did qualify. I think it were the pink doors that did the trick 🙂 .
When I asked her if she would like to have this bed, she was so happy, she gave me a whoooooole lot of kisses.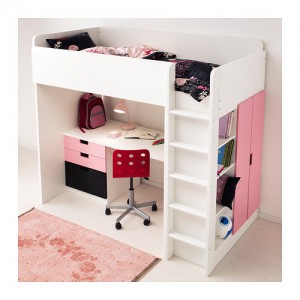 We've decided to give her room a complete make over, so it will be really her place where she feels comfortable. So, I have some measuring and painting to do. Or actually a lot of painting. I would prefer the walls and the ceiling to have a nice fresh and bright white color instead of the Bellevue beige that's on there right now (beige is a very popular neutral color over here, like white in the Netherlands). Other things I need to do are reupholster a chair, revamp a lamp and finish a wall decoration that has been lying around for a while now. So, plenty to do. Let's start with some measuring and picking out the right colors.
To be continued….